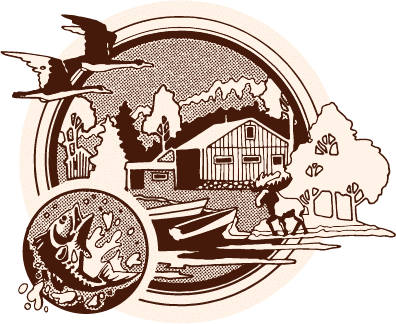 ABOUT WOODS CABINS
Just as it was when Charlie Clark discovered this location in 1946 and built the original few cabins on the remote and rugged shores of a driftwood-dotted beach, there are still no roads connecting us to the outside world. Between 1960 -1975 Sam Woods and his family established this camps reputation as one of the finest in the Algoma region. Michael and Hana have been your hosts since 1976 and recently Andrei, Kate and little Jesse and Alex Spazier have taken over running the camp always appreciating the company of our guests,many of whom have been enjoying this unique 'secret' place since the sixties.
WHAT MAKES US DIFFERENT?
Our dedication to simplicity. We offer excellent and very personal service, clean, comfortable accommodations, well-maintained equipment, all in a relaxed and informal atmosphere with an absolute minimum of modern conveniences.
There is no electricity, therefore no phones, TV, computers or loud radios to disrupt the peace and tranquility. During the week your cabin becomes your private home, the one you'll probably want to come back to next year! But we are always available to help you if you need us.If you enjoy fishing or just being in the wilderness with little reminders of "civilization" – we welcome you to be our guests at Oba lake.
The Cabins are beautiful, rustic, hand made from the logs they cut down to make camp. Inside just to your left you find a table and chairs waiting for you to sit in at the end of a good day of fishing and tell stories of how you missed the big one, what lures they are hitting on and what weed bed they are in, (never actually revealing the real lure or the hot spots!!!)